Finnair history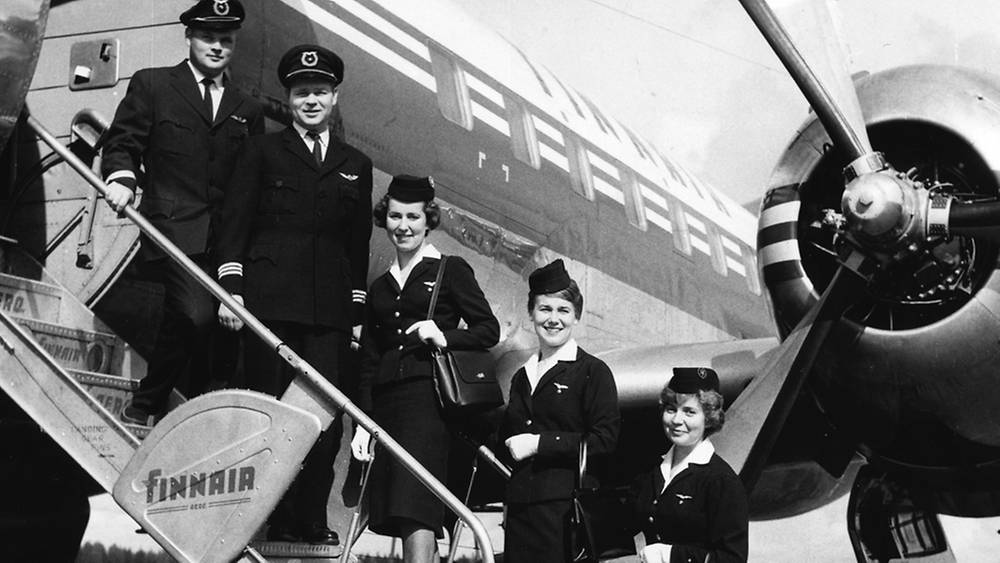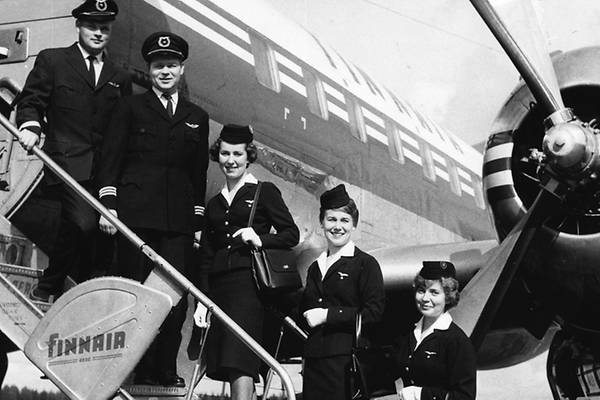 100 years of Finnair – our history
Finnair is one of the world's oldest operating airlines. Since it was founded in 1923, the company has grown from a small airline to a strong and respected member of the international airline industry.
1923

Finnair, then known as Aero, was founded in 1 November 1923

1924

Aero received its first aircraft, a German-made Junkers F 13 in 1924.

The Junkers was a seaplane: it used skis in winter and floats in summer. At the time, there were no commercial airfields on land in Finland.

Aero operated its flights from downtown Helsinki, more precisely from Katajanokka by the harbour. The aircraft's maiden commercial flight was to carry mail from Helsinki to Tallinn. Later it was used on flights between Helsinki and Stockholm in cooperation with the Swedish airline ABA.

During its first year, Aero carried a total of 269 passengers.

1936

All flights were operated from solid ground after the last seaplane flight in December 1936.

1939

During the Winter War in 1939–40, civil aviation was placed under military control. As Helsinki was not safe enough, flights to Stockholm were temporarily operated from Vaasa.

Almost half of the wartime passengers were children evacuated to Sweden.

1941

During the Continuation war in 1941–44, Aero once again was put under military control. During that time, the airline temporarily operated from Pori.

1946

After the war in 1946, the Finnish State acquired a majority holding in Aero, which had previously been a private company.

Aero acquired its first DC-3 aircraft. The Douglas DC-3 aircraft is one of the most famous aircraft types in aviation history and one of the most manufactured aircraft in the world. They were used during World War II and after the war, some of them were converted into civilian aircraft and sold to airlines.

1947

Aero started using the name Finnish Air Lines on its fleet livery in 1947.

That same year, Aero also recruited its first stewardesses. At first they only flew on the domestic Helsinki–Kemi and Helsinki–Kuopio routes.

1949

In 1949 Aero became a member of IATA (the International Air Transport Association) and received its airline code AY, the same that Finnair is still using today.

1952

The Helsinki Olympic games in 1952 increased Aero's passenger number to over 100,000.

Helsinki Airport was also opened in June of the same year.

1953

Aero started using the name Finnair in its marketing already in 1953, even though the official name change did not happen until 1968.

Aero acquired 44-seat Convair 340/440 Metropolitan passenger aircraft for its fleet, that already included DC-3 aircraft. Convair had better speed than previous aircraft types and could fly farther than before, such as to Europe. In April 1953, Aero's first Convair 340 OH-LRA flew its first European flight. The route was Helsinki-Copenhagen-Hamburg-Düsseldorf.

1954

Aero opened a new route to London via Copenhagen and Düsseldorf.

1956

Aero opened a new route to Moscow in 1956, being the first Western airline to do so after the war.

1960

Aero became the first small airline to enter the jet age in 1960 with its new Caravelle passenger jets.

The first jet routes were Helsinki–Copenhagen–Cologne–Frankfurt and Helsinki–Stockholm–Oslo. Later the Caravelles were also used on flights to Hamburg, Amsterdam, London, Paris, Zurich and Malmö.

1964

The Finnair Aviation Academy, today known as the Finnish Aviation Academy, opened at the beginning of 1964.

Between 1964 and 1967, Aero acquired several new Super Caravelle aircraft to correspond to the rapidly growing operations and expanding route network.

1967

By 1967, 95 per cent of the company's scheduled flights were operated with jets.

1968

In 1968 Finnair revealed its new logo and made the name change official.

During the same year, Finnair carried one million passengers for the first time.

1969

Finnair flights from Helsinki to New York via Copenhagen and Amsterdam began in May 1969. The route was operated with DC-8 aircraft, that Finnair had acquired earlier that year.​

Finnish designer Tapio Wirkkala's glassware, Ultima Thule, was introduced on Finnair's New York route. The classic design is still being used today in Finnair Business Class.​

1976

Finnair started its expansion to Asia with direct flights to Bangkok in 1976.

1983

Non-stop flights to Tokyo started in 1983. With extra fuel tanks on the plane, the route took passengers over the North Pole. At the time, Finnair was the only airline offering non-stop flights between Western Europe and Japan.

Finnair becomes the official airline of Santa Claus. Since then, Finnair has taken Santa's message around the world. For example, Santa's visit with blue and white wings has been a tradition in Japan.

1984

A Finnair aircraft flew in the livery of Santa Claus in 1984. The company would become "The Official Carrier of Santa Claus" four years later.

1985

The blue Finnair look was first introduced in one of the aircraft in 1985 and gradually extended to cover the whole fleet.

1986

Finnair was the first airline to acquire satellite telephones for its DC-10 aircraft in 1986. This enabled passengers to call from the aircraft to anywhere in the world.

The same year Finnair received its first Airbus aircraft.

1988

Direct flights from Helsinki to Beijing began in 1988. Finnair was the first Western European airline to offer non-stop flights between Europe and China.

1990

Finnair receives its first McDonnell-Douglas MD-11 aircraft. Finnair was the first airline to include MD-11 aircraft to its fleet. Finnair used this wide-body aircraft type until the year 2010.

1992

The Finnair Plus program was introduced in 1992.

1995

A new route to Osaka was opened in 1995.​

In November 1995, Finnair's internet website was opened. In terms of content and scope, it was one of the most comprehensive services in the world offered by an airline.​

During the same year, Finnair began its collaboration with Moomin.

1997

All Finnair flights excluding Japanese flights became non-smoking in 1997. Smoking was prohibited also on the Tokyo and Osaka flights two years later.

1999

Finnair received its first Airbus A320 series aircraft in 1999.

Finnair joined the oneworld alliance in September 1999.

2001

The decreasing demand for air travel after the terrorist attacks in New York on 11 September 2001 forced Finnair to take measures to cut costs and adjust capacity. More capacity was transferred to the Helsinki–Bangkok route due to the better market climate for Asian traffic.

2002

Flights to Hong Kong began in 2002 and the flight frequency to Bangkok was increased to a daily service.

2003

The Shanghai route was opened in 2003. Finnair was the only Northern European airline as well as the only oneworld airline to offer direct flights to Shanghai.

2004

The online check-in option was introduced for passengers departing from Helsinki or Stockholm without connecting flights in 2004.

In addition, text-message check-in became available for Finnair Plus members the same year.

2005

Finnair placed an order for nine Airbus A350 aircraft in 2005. Ten years later Finnair would receive its first A350 XWB aircraft as the first airline in Europe.

2006

Finnair received its first Airbus A340 aircraft for long-haul routes in 2006.

2007

The long-haul fleet modernisation was initiated in 2007 by ordering several new Airbus A330 and A340 wide-body aircraft to replace the old MD-11 fleet.

2011

In 2011 Finnair started a major restructuring and cost savings program to make a financial turnaround and build a foundation for future growth.

The same year a new direct route was opened to Singapore, Finnair's tenth scheduled destination in Asia.

2012

Finnair was the first carrier to open a non-stop route between Europe and Chongqing in 2012.

2013

Direct flights to Xi'an began in 2013. Finnair was the only European carrier offering a direct connection between Europe and Xi'An.

2014

Finnair celebrated the 90th anniversary of its maiden flight in 2014. By this time there was a Finnair aircraft flying somewhere in the world every hour of the year.

The same year, Finnair completed its 200-million-euro restructuring and savings program.

2015

​2015 was a turnaround year for Finnair: the company returned to profit, received its first A350s and started a massive recruitment program for its growing operations.

In October, the company celebrated the arrival of the first A350 XWB aircraft and became the first airline in Europe to fly the new aircraft. The first long-haul service took off to Shanghai on 21 October.

2016

Direct routes to Guangzhou and Fukuoka were opened in 2016. Finnair's service to Fukuoka made it the only European airline to operate to four different cities in Japan – in addition to Fukuoka, the airline offered daily connections to Tokyo (Narita), Nagoya, and Osaka.

2017

Finnair opened new routes to San Francisco and Reykjavik. Finnair increased its passenger numbers by over one million and flew almost 12 million passengers in 2017.

2018

Finnair opens new routes to Lyon and Nanjing.​

Internet connection is brought to Finnair's European flights.

2019

Finnair launches new routes to Los Angeles, Sapporo, Porto and Bologna. Furthermore, Finnair starts service to the new Daxing International Airport in Beijing in addition to its flights to Beijing Capital Airport.​

Push for Change initiative launch in January: customers were able to offset their flights or buy biofuel. In August, Finnair flew its first "Push for Change" biofuel flights that were supported by customers' biofuel purchases. The biofuel flights were flown from San Francisco to Helsinki.​

Finnair joins a Nordic Initiative for Electric Aviation that supports the development of electric aviation.

2020

Finnair launches its new sustainability strategy and aims to be a carbon-neutral airline by the end of 2045.

The COVID-19 pandemic hits the whole globe and countries impose strict travel restrictions. Finnair runs less than 10 % of its normal operations for most of the year, furloughs most of its employees, pays customers over 400 million euros in refunds of cancelled flights, and arranges a 500-million-euro rights issue to improve its equity.

Finnair brings high-quality Taste of Finnair ready-made meals to grocery stores in Finland, to create work for Finnair employees and to remind people of the joys of international travel.

2021

The coronavirus pandemic continues to affect the travel industry. Finnair continues to build itself a path out of the pandemic with comprehensive financing measures and implements a 200-million-euro cost savings program.

Finnair opens non-stop flight routes from Arlanda, Stockholm in Sweden to Bangkok and Phuket in Thailand and Miami, New York and Los Angeles in the United States.

Finnair dismantles and recycles a 21-year-old A319 aircraft at Helsinki Airport. This is the first commercial airliner that is recycled in Finland.

2022

Finnair introduces its new elevated long-haul experience – a 200-million-euro strategic investment into a brand-new Premium Economy travel class, completely renewed Business Class and refreshed Economy Class.

Finnair invites its customers to offset their flight emissions with a service that combines Sustainable Aviation Fuel and trusted climate projects.

The coronavirus pandemic is starting to ease, and many countries lift their travel restrictions after two years. However, following Russia's invasion of Ukraine and the subsequent closure of Russian air space, flight times to Finnair's Asian destinations are considerably longer. Finnair introduces new strategy aiming to return to profitability regardless of closed Russian air space.

Finnair opens new routes to Dallas, Seattle, Mumbai and Tokyo Haneda.

2023

Finnair celebrates its 100th birthday in November 2023.