Pilots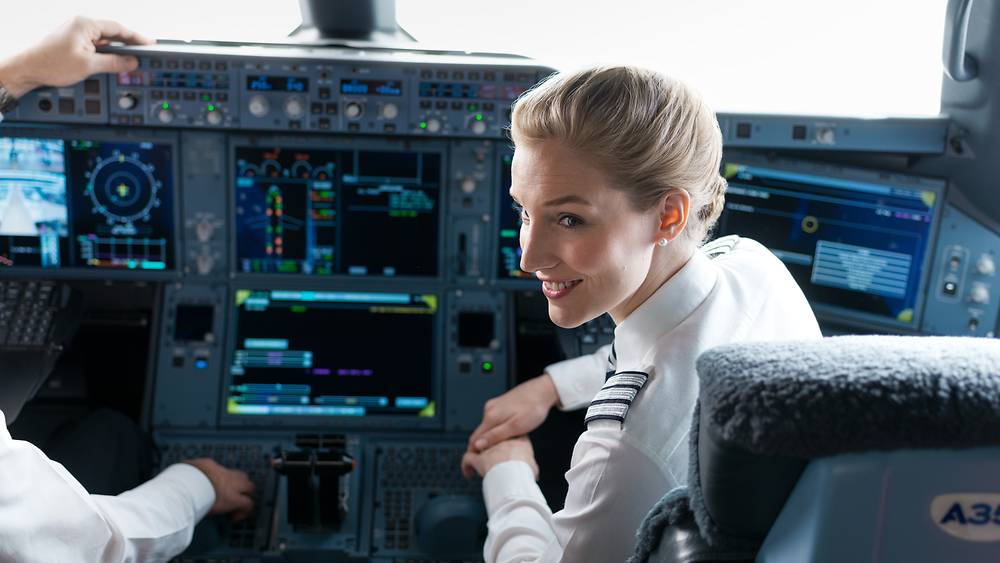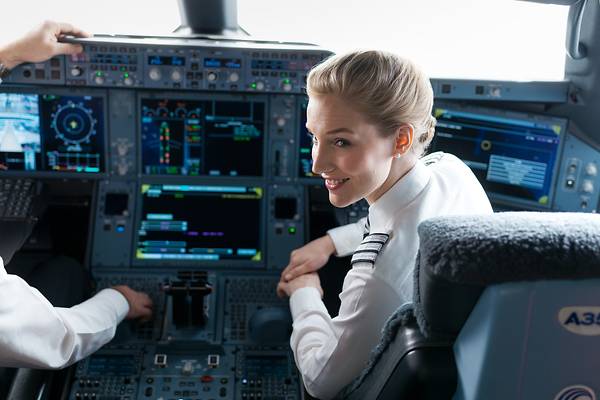 Working as a pilot for Finnair 
Are you dreaming of being a pilot? The work of an airline pilot is intriguing and rewarding while also demanding and challenging. There's no need for superpowers or laser vision; being an ordinary healthy person can get you far in becoming an airline pilot.
The work is irregular as pilots may work at any time of the day. The length of the working day depends on the aircraft used and the routes flown, and you'll get instant feedback for your work.
Dream job: being a pilot
What is it like to work as an airline pilot? Go on a flight with Pia as she reveals how she became a pilot. The video is in Finnish.
Join a training flight
Follow pilot students' training flight at Lappeenranta. The video is in Finnish.
Helsinki from above
See our A350 above at the Kaivopuisto aviation show. The video is in Finnish.
How to become a Finnair pilot
To work as an airline pilot, you need a commercial pilot licence. In addition to basic aviation training, you must go through further training provided by airlines before you can start working in the cockpit. Fluency in the Finnish and English languages is required for all Finnair pilots.
Basic training
In Finland, basic training for pilots is usually provided by the Finnish Aviation Academy in Pori. The training takes approximately two years and is split into several phases. 
Upon graduation, pilots will have a commercial pilot licence, instrument rating and multi-engine type rating.
Further training at Finnair
After receiving the commercial pilot licence, you can apply for further training provided by Finnair or other airlines. The training includes a first officer's course and simulator training, followed by type rating courses for different aircraft types. The training takes about two to three months, after which you will be ready to work as a first officer on Finnair flights. Once recruited by Finnair, you'll be facing a career that can lead to working as a captain on a wide-body aircraft.
Frequently asked questions
Find answers to the frequently asked questions about becoming a Finnair pilot. 
If you don't find an answer to the question you have in mind, you can ask us via email:
Working as a Finnair pilot is intriguing and challenging, and you get to work in an international and varying environment in a dynamic company together with like-minded co-workers. 
Focus on education and training and lead a healthy lifestyle. 
You do not need to be anything extraordinary to become a pilot, as long as you are in good health, willing to learn and motivated. More detailed entry requirements are: 
Commercial pilot licence 
Degree from an upper secondary school or completed vocational upper secondary qualification of at least three years (180 ECTS credits, 120 in the former credit system) 
The minimum height requirement is 163cm 
Good language skills in Finnish and English 
Fulfilling the medical criteria defined by Finnair 
Passing a brief security clearance by the police
If you are healthy and in good shape, you most likely meet the medical requirements of a Finnair pilot. 
The medical requirements are based on the European aviation authority's definitions regarding the health of a professional pilot, with some additional Finnair-specific restrictions. 
A good rule of thumb is that you should not have any chronic illness that requires regular medication. Flawless colour vision is a must but wearing glasses is not a limitation. 
Each applicant's medical fitness is assessed individually, and all pilots must have their medical fitness approval renewed yearly throughout their entire career. Therefore, adopting a healthy lifestyle, regular exercise routine, adequate rest and a healthy diet is recommended for everyone wishing to become a pilot. 
Visit Traficom website to see the general requirements for aviation professionals in Finland. Airlines may also have additional requirements.
Yes, you can become a pilot as long as your eyesight is adequate with or without correction.
Vision is one of the most important tools for a pilot. Therefore, significant deficiencies in eyesight cannot be allowed.
Visit Traficom website to see the general eyesight requirements for pilots in Finland. Airlines may also have additional requirements.
There is no age limit for becoming a pilot for Finnair. Anyone meeting the acceptance criteria can apply for the job.
We have approximately 850 pilots.
You can get into a pilot training with a good grade from intermediate math studies.
Finnish citizenship is not a requirement, but Finnish language skills are.
A criminal record is not allowed for Finnair pilots. A few minor speeding tickets may still be tolerated. Applicants who have entries in the security clearance will be handled case by case. During the application phase, it is recommended to disclose any convictions, violations and fines openly.
All Finnair pilots regularly go through a security clearance. Following the rules is an essential part of aviation; therefore, those who ignore the rules of society are not considered suitable for working in the aviation industry. 
The requirement comes from the fact that the pilot needs to be able to reach all the buttons and controls in the aircraft cockpit. In some instances, the aircraft is controlled with foot pedals, for which a person under 163cm cannot get enough pedal power. Therefore, the height requirement is a flight safety issue.
Yes, as long as the tattoos and piercings are covered when wearing the uniform.
The retirement age for Finnair pilots is currently 55–65 years.
The starting salary for each pilot is determined based on the collective agreement in force at the time. Currently, it is around 4,500 euros per month, including flight allowance.
Contact us
If you have questions, please contact us via email. You can follow the open positions online and on social media.