Environmental sustainability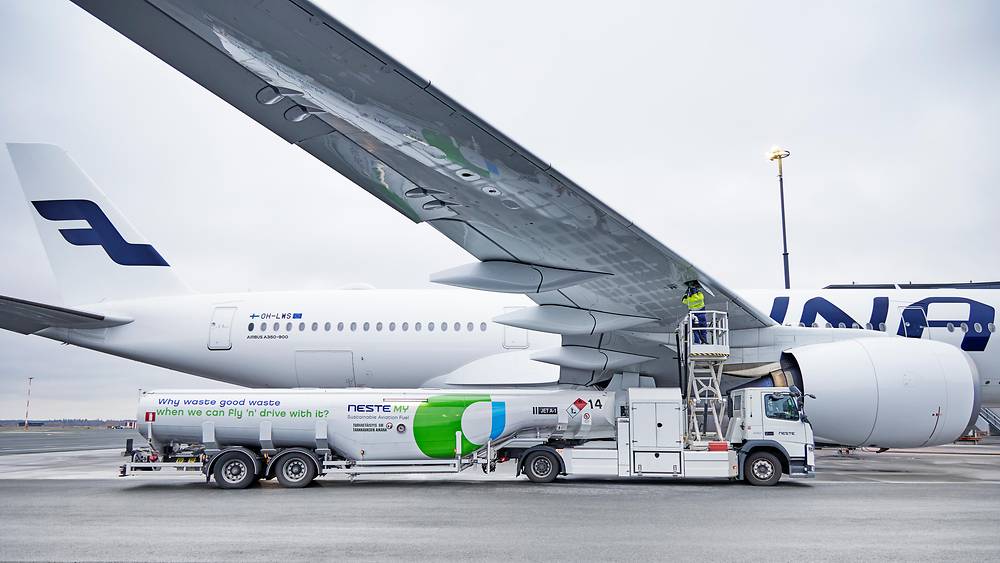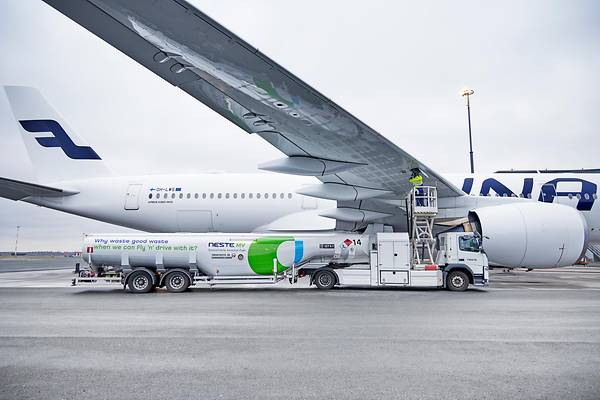 CO2 emissions is the single most pressing issue for any airline, and we need to act. We aim to fly carbon neutral by the end of 2045. Our first milestone is to have carbon neutral non-flight operations (Scope 1 and 2) from 2023 forward. We are committed to UN Sustainable Development Goal number 13, to take urgent action to combat climate change and its impacts.
Our key actions for future CO2 reduction
We decrease the weight of our aircraft, as it directly impacts fuel burn and emissions. This is a joint effort by everyone working with aircraft purchases, cockpit, cabin, service design, cargo, and technical services at Finnair.
We aim to increase the use of sustainable aviation fuel (SAF) together with the oneworld alliance, which has set a common aspirational goal of achieving a 10 per cent level in SAF uptake by 2030. Our biofuel partner is Finland-based Neste, the world's largest producer of SAF refined from waste. We have also made future SAF purchase agreements with Aemetis and Gevo starting late 2020's.
We continue to invest in fuel efficiency, every day, with every single flight. This means fuel-efficient flight planning, reducing the operative weight of the aircraft, and operating each flight as fuel efficiently as possible. Our pilots are in a key role in this; they have a concrete impact on fuel burn and CO2 emissions during flights. Our flight planning and our ground operations also contribute to fuel efficiency in their everyday work.
We are participating in research to help accelerate the development of new technological solutions, such as sustainable aviation fuels and hydrogen flying.
As technological roadmap to fossil free flying is long, we will still need offsetting in order to bring the net emissions of flying to zero.
Decarbonisation Roadmap
Finnair wants to remain as one of the sustainability leaders in aviation, and as pressure to decarbonize aviation grows, sustainable aviation fuel has emerged as a key technology driver for reducing emissions, especially for long-haul flying. Compared to other new technologies (e.g. hydrogen flying and electrification), SAF is more mature for the current infrastructure and has a significant impact on cutting fossil-based CO2 emissions as much as 80%.
There are multiple roadmaps published outlining similar results needed to achieve carbon-neutral flying (IATA Waypoint 2050, A4E destination 2050, WEF SAF as a Pathway to net-zero Aviation, and oneworld Path to net-zero Emissions). We need to pull many levers, but the most important one requiring our focus in 2020's is sustainable aviation fuel.
Finnair is committed to setting a Science-Based Target (SBT) in early 2024 and utilizing three levers to achieve this emission efficiency target by the early 2030s. These levers include optimizing our network and fleet, improving operational efficiency, and transitioning to fossil-free energy.
Key Benefits of Sustainable Aviation Fuel:
Sustainable aviation fuel can be blended with conventional jet fuel, and it can be used in existing aircraft without modifications to engines or infrastructure.

Sustainable aviation fuel is estimated to be the key technology driver for reducing flying emissions, especially for long-haul flying.

Sustainable aviation fuel can reduce fossil CO2 emissions up to 80% compared to fossil-based fuels.
Compensation
Compensation plays a role in our journey towards carbon-neutral flying by 2045. At Finnair, we recognize the importance of reliable compensation projects that deliver concrete and verifiable emission reductions or removals. To this end, we focus on three different streams for compensation: regulative compensation, voluntary climate actions, and customer engagement.
CORSIA is a global market-based measure managed by the United Nations specialized agency ICAO, designed to achieve environmental goals in a more cost-effective and flexible manner than traditional regulations. As part of CORSIA, airlines are jointly obliged to compensate for the increase in global aviation emissions. Finnair participates in this offsetting, regardless of whether our emissions increase or not if global emissions continue to rise. We follow the quality standards for CORSIA-eligible offsets set by ICAO in our regulative compensation requirements.
In addition to regulative compensation, we want to participate in global voluntary climate work. This includes opportunities for supportive and/or repealing offsetting. If the emission offset has already been claimed by a nation, a company could make a supportive claim. When the emission offset is not claimed by a nation, a company could make a repealing claim. Finnair is currently assessing how we could participate and communicate transparently in both forms of offsetting.
We also offer our customers the opportunity to address flight emissions through our Carbon offset service, which combines sustainable aviation fuel (SAF) and trusted and verified climate projects. SAF purchased directly by our customers reduces the fossil footprint of flying, as it is made of recycled carbon. We encourage our customers to participate in building demand for SAF producers, encouraging them to invest more in renewable energy.
At Finnair, we are committed to reducing our environmental impact and ensuring a sustainable future for the aviation industry. By focusing on reliable compensation projects and providing our customers with sustainable alternatives, we can work together to achieve our target carbon-neutral flying in 2045.
Circular Economy
On our flights, the food and materials we consume have also an impact on our environmental footprint. At Finnair, we have set a company-wide target for Circular Economy: 100% Material Management. Our Circular Economy implementation objective focuses on the materials of industrial sectors that use the most resources and where the potential for circularity is high. These sectors include plastics, packaging, food & beverages, textiles & fibres, electronics & ICT, batteries & vehicles, and construction & buildings.
Although some parts of our waste management flows are not allowed for material recycling or biogas production due to regulation, we ensure that all waste from inflight ending at our Helsinki hub is re-used either as energy, heat, biogas, manure, or material, with zero waste ending up in landfills.
Our key actions for more sustainable material management are:
We include the circular economy design principles in all operations.

We focus on reducing waste and strive turning waste streams into material streams for use in other industries.

plastics:

substituting single-use plastics, recycling, paying attention also on microplastics, and biobased and biodegradable plastics.

food:

improving order-delivery -based service,

striving to reduce food waste onboard by offering more pre-order choices,

 

donating excess meals to charity.

packaging:

reducing packaging materials and single-used packaging products,

donating excess amenity kits to charity.

textiles & fibres: improving textile reuse and recycling.

electronics and ICT: improving the sorting of electronic waste.

batteries and vehicles: enhancing the circular potential of batteries.

construction and buildings: promoting circularity principles in facility management.
Biodiversity
Biodiversity is the foundation of human well-being and an essential component of our planet's beauty. Protecting the land and oceans requires sustainable consumption and production practices, as well as preserving nature. Unfortunately, criminals take advantage of air transport to smuggle illegal flora and fauna, with the illegal wildlife trade estimated to be worth at least $19 billion annually. As a signatory to the Buckingham Palace Declaration (United For Wildlife's Transport Task Force), Finnair is committed to raising awareness of this issue. Finnair is an IATA IWT Registered airline.
We're also committed to using only sustainable aviation fuel produced according to the sustainability criteria set by EU RED II and/or CORSIA. This helps us to ensure that the significant increase in SAF production over the next few decades is done sustainably, with consideration for both climate and biodiversity, as well as Indirect Land Use Change (ILUC). ILUC aims to prevent arable land used for food production from being used to produce raw materials for biofuel, which would result in either the clearing of forests or wetlands or a decline in food production.
Our key actions in biodiversity conservation are:
Raise the public and personnel awareness of the Illegal Wildlife Trade.

Provide proper training for employees possibly encountering illegal wildlife trade.

​​​​​​​Finnair has placed an embargo concerning hunting trophies, including their skin/hide and all articles made from or containing parts of such animals.

Finnair doesn't tolerate suppliers, customers and personnel involved in these crimes and we encourage all our partners and personnel follow the same principle.​​​​​​​​​​​​​​