Governance and management in sustainability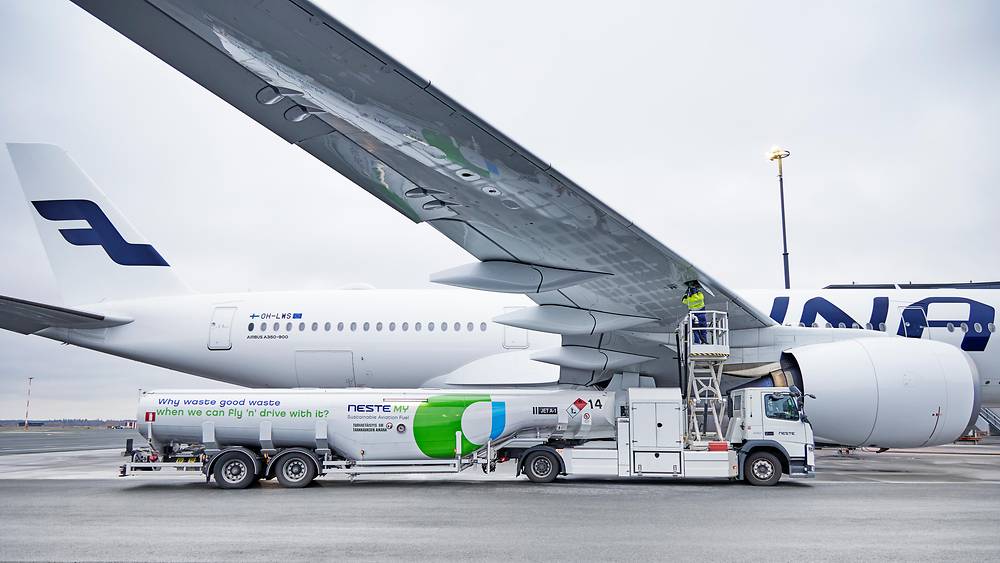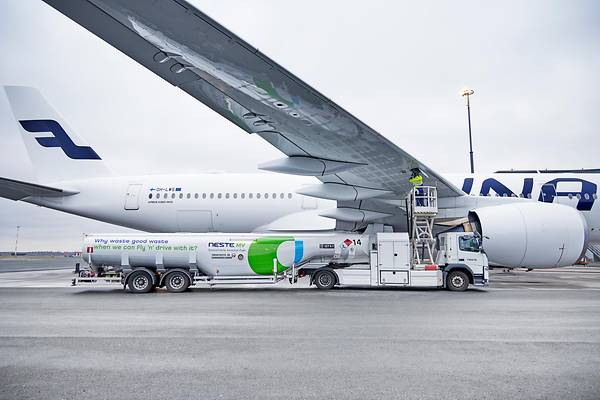 Finnair is fully committed to being one of the leaders in sustainability within the aviation industry. We continuously improve our sustainability performance by identifying key aspects related to our operations, including their impacts, risks, and opportunities. We set targets to achieve these goals and believe in open dialogue with stakeholders, active development of operations, and implementing new technologies to promote sustainable and responsible aviation.
To achieve this, Finnair actively participates in civil aviation committees and industry working groups in Finland and the Nordic countries. We recognize that reducing environmental impacts and increasing social and economic returns to society is crucial. As a result, we have implemented a systematic Enterprise Risk Management process to consider all potential risks and opportunities, including those related to climate change.
Finnair's Board of Directors monitors the realization of our sustainability agenda and initiatives as part of the implementation of our strategy. The CEO and Executive Board have direct responsibility for sustainability and environmental management, and the Board sets performance objectives for them. In March 2020, we published our sustainability strategy, which was actively contributed to by the Board. Despite the challenges of the COVID-19 pandemic, we re-evaluated our sustainability strategy in 2023 and found it to be still valid.
Our Executive Board is ultimately accountable for the effectiveness and success of Finnair's sustainability management system. They ensure sufficient resources are provided to meet objectives, targets, and continual improvement of the system. We have a specific team to manage sustainability-related issues, the Sustainability Leadership Team, who reports to the Executive Board, ensuring the system is effective in meeting our sustainability strategy and objectives. They propose the sustainability strategic roadmap and approve large-scale sustainability programs and initiatives within it.
All environmental objectives, targets, impacts, and promotion are managed through Finnair's Environmental Management System (EMS), which complies with the IATA Environmental Assessment Program (IEnvA) standard. This program has specifically been developed for airlines by IATA and is consistent with the ISO 14001:2015 standard.
At Finnair, we view sustainability as an integral part of our operations and not a separate department or process. As part of our commitment to transparency, we report on our sustainability efforts as part of our annual report, and we communicate directly with various parties about our operations. We are always happy to discuss and answer any questions that arise from our stakeholders.
Communications
Communication at Finnair is transparent, timely, and honest. We abide by regulations that apply to listed and limited liability companies, as well as the Finnish Act on Cooperation within Undertakings and the State Ownership Steering Department's communication guidelines.
We value the opinions of all our stakeholders and strive to consider different perspectives. Every employee has a responsibility to communicate matters related to their area of expertise to relevant groups. Supervisors also have a duty to communicate goals, operations, and results to their team and create a supportive work environment that fosters constructive discussion. Finnair is committed to improving our communication channels to promote more efficient communication and facilitate dialogue.
Public affairs and lobbying
As a company looking forward to the future, it's crucial for us to participate in discussions and decision-making that impact our industry. To achieve our strategy, we aim to secure adequate traffic rights while adhering to ethical and sustainable practices. We maintain a fair and transparent approach to lobbying and refrain from pressuring or supporting political decision-makers. Our lobbying activities are audited regularly to ensure compliance with legal and ethical standards.
We engage in lobbying activities to maintain relationships with relevant policymakers and participate in advocacy organizations' operations and negotiations. When lobbying on civil aviation and industry regulation issues, we collaborate with various organizations and chambers of commerce. Finnair is an active member of aviation industry organizations such as A4E and IATA, the Confederation of Finnish Industries (EK), its sub-associations, and several chambers of commerce.
Risk Management
Finnair has implemented a systematic Enterprise Risk Management (ERM) framework and process, which is based on the COSO ERM framework. The process considers all potential risks, including climate change-related risks and evaluates their potential financial impacts. The primary governance principle is adherence to the Three Lines of Defence model, with a clear division of roles and responsibilities with respect to internal control and risk management. The Three Lines of Defence governance ensures that the segregation of duties is defined and established between risk management and risk control.
Climate related risks
Finnair reports on the work done for emissions and energy efficiency and risk management according to TCFD in more detail through CDP reporting. Detailed disclosures can be found from Finnair Questionnaire: LINK. As a result of climate-related scenario analysis Finnair has summarised following:
Acute physical climate risks would materialize in the punctuality of flight operations (on-time performance) or in extreme weather events. Based on the analysis, Finnair's home base Helsinki-Vantaa does not suffer from the acute physical risks of climate change at the same level compared to its competitors in general. Increased heavy snowfall could pose more challenges to the on-time performance. When comparing the RCP 8.5 scenario with the RCP 2.6 scenario, it can be concluded that climate change would lead to increased operational costs. These would most likely be due to increase in extreme weather events, resulting in irregularities and flight cancellations. Part of Finnair's network might also need to be re-evaluated. The likelihood of this latter risk is also affected by possible chronic changes in climate that could have an impact on people's travel behaviour. According to the IEA's NetZero 2050 scenario, governments should invest in ways to increase the use of low-carbon fuels. Here, global cooperation is seen as very important and a key factor for success. It would also be important to agree that measures should be targeted where rapid results can be achieved. Infrastructure projects aimed at reducing the number of short haul flights, mainly fast train connections, would need more funding. The NetZero 2050 scenario also highlights the importance of measures to curb the growth of long-haul air traffic. SAFs are currently many times more expensive than fossil kerosene, so any refuelling sanctions on them should be carefully designed to avoid regional inequalities. The same applies to possible regulatory upward pressure on ticket prices. As stated in the IEA's NetZero 2050 scenario, international co-operation is needed to define a common direction and actions.
Based on the scenario analysis, Finnair sees an opportunity to stand out as a sustainable airline among its competitors. A more attractive sustainable option and a positive service experience can lead to increased customer loyalty and bring new customers to Finnair.
Economic responsibility
Finnair's impact on Finland's economy is significant, both directly and indirectly. As an important industry for Finnish society, aviation plays a crucial role in maintaining the country's global competitiveness, and it contributes significantly to GDP, employment, and tax revenue.
As a company, Finnair is committed to creating sustainable economic value by providing flight services that are both profitable and cost-competitive while considering the needs of the environment and society. Finnair recognizes the importance of sustainable operations for profitable business activity and strives to mitigate the negative impact of its operations on society and environment.
Finnair's Board of Directors sets financial targets that are shared with investors, and as a publicly listed company, Finnair is committed to generating profits for its shareholders. The company's dividend policy outlines its principles for profit distribution. Finnair aims to provide transparent financial reporting to offer information about its financial position and performance.